Lao Tzu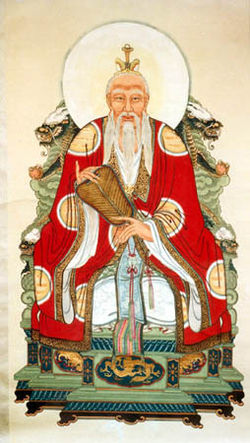 Click to see video
Ancient Chinese philosopher and writer. He is known as the reputed author of the Tao Te Ching, the founder of philosophical Taoism, and a deity in religious Taoism and traditional Chinese religions.
Although a legendary figure, Laozi is usually dated to around the 6th century BCE and reckoned a contemporary of Confucius, but some historians contend that he actually lived during the Warring States period of the 5th or 4th century BCE. A central figure in Chinese culture, Laozi is claimed by both the emperors of the Tang dynasty and modern people of the Li surname as a founder of their lineage. Laozi's work has been embraced by various anti-authoritarian movements as well as Chinese legalism.
According to traditional accounts, Laozi was a scholar who worked as the Keeper of the Archives for the royal court of Zhou. This reportedly allowed him broad access to the works of the Yellow Emperor and other classics of the time. The stories assert that Laozi never opened a formal school but nonetheless attracted a large number of students and loyal disciples. There are many variations of a story retelling his encounter with Confucius, most famously in the Zhuangzi.
He was sometimes held to have come from the village of Chu Jen in Chu. In accounts where Laozi married, he was said to have had a son named Zong who became a celebrated soldier. Many clans of the Li family trace their descent to Laozi, including the emperors of the Tang dynasty. This family was known as the Longxi Li lineage (隴西李氏). According to the Simpkinses, while many (if not all) of these lineages are questionable, they provide a testament to Laozi's impact on Chinese culture.
The third story in Sima Qian states that Laozi grew weary of the moral decay of life in Chengzhou and noted the kingdom's decline. He ventured west to live as a hermit in the unsettled frontier at the age of 80. At the western gate of the city (or kingdom), he was recognized by the guard Yinxi. The sentry asked the old master to record his wisdom for the good of the country before he would be permitted to pass. The text Laozi wrote was said to be the Tao Te Ching, although the present version of the text includes additions from later periods. In some versions of the tale, the sentry was so touched by the work that he became a disciple and left with Laozi, never to be seen again. In others, the "Old Master" journeyed all the way to India and was the teacher of Siddartha Gautama, the Buddha. Others say he was the Buddha himself.