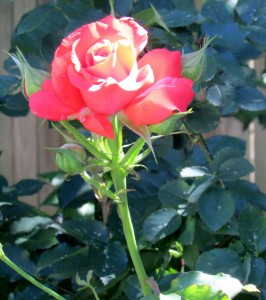 Greetings to all!
While reading an email message from another student, a poem by Dr. Norman immediately came to mind. I shared it in that email and wanted to share it here for everyone as well. While typing up the poem, I was listening to "Air" by Johann Sebastian Bach. The transcending poetry of Dr. Norman and the stirring music of Bach...a beautiful way to bring joy to the day!  
 Suspended
And now the pale dawn breaks, I see
a bright and glowing morning star
So hung halfway 'twixt Heaven and earth
it beckons with an unseen hand.
And as I watch, my soul escapes and joins
this bright and glowing star
Within its warm embrace I too, will hang
suspended in the morning sky.
What will I find and see when thus I view
both Heaven and earth
All things I'll surely see, but in a
different way
Than ways in which all men have found
them so.
For Heaven sends to these a different thing
that's made from Light, and Lights the sky.
And so each thing so seen becomes sublime;
a way in which all men will thus become
Suspended in their morning sky.
~from The Anthenium by Dr. Ernest L. Norman
Wishing everyone "a bright and glowing morning star" to shine throughout your day!
Madilyn
Submitted by: Madilyn Leonard Benrubi on 12/02/2013
Add your Thoughts, Insights, or Comments below.