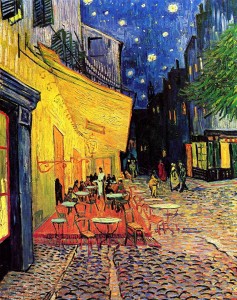 Sharing a beautiful Van Gogh painting, Café Terrace at Night, a lovely scene on the earth but inspired from above. No one else painted such vibrant, soul-stirring colors. I believe Vincent Van Gogh saw these colors on the Inner and then recreated them on his canvas. I am especially drawn to the joie de vivre of the brilliant yellows and deep blues. Viewing this master work of art, you can envision yourself sitting at that café, sipping a cup of your favorite beverage, and gazing up at the heavens, each radiant, haloed star a portal to the higher worlds.
I have a print of this painting on my kitchen wall. A few years, I got to see the original at a traveling Van Gogh exhibit at the National Gallery of Art in Washington, DC (I currently live in a Maryland suburb of DC). Stunning to say the least! The canvas is quite large (many of Van Gogh's canvasses are very large). On the original, you can see the amazing raised textures of the paints, and the vivid colors, like no other colors on earth (Van Gogh mixed his own colors to match his visions). I can truly see and feel the inspiration in this art. I hope others will enjoy it as well.
Madilyn
Submitted by: Madilyn Leonard Benrubi on 09/06/2013
Add your Thoughts, Insights, or Comments below.
Tagged with: Voice of Muse